A Case Study in Redland…
There are many things that make working at Richard Harding particularly enjoyable; one of them being the privilege to be invited inside so many beautiful homes. However, it is not very often that once a property is sold, we are invited back to see how the new owners have made it their own. Thankfully, that was not the case with one particular house in Redland…
---
When we sold the house back in 2021, it was safe to say the property needed more than just a simple spruce and a lick of paint to restore its former glory; although it had been a beloved family home, it had stood empty for some time and the kitsch 1960s décor and the haphazardly divided rooms meant this was going to prove quite a project for the next owner.
Mercifully, this did not faze Ed and Carla. Making a brave and bold move during the height of the Covid pandemic, they relocated from south-east London after deciding that a lifestyle refresh and access to more green open spaces were de rigueur. They knew the moment they walked into the grandiose hallway, with its stained glass, imposing period staircase and tessellated tiled flooring that this house was special and it was to be their new family home. Although neither had undertaken a renovation of quite this scale before, they were willing to rise to the challenge and were excited by what they could create.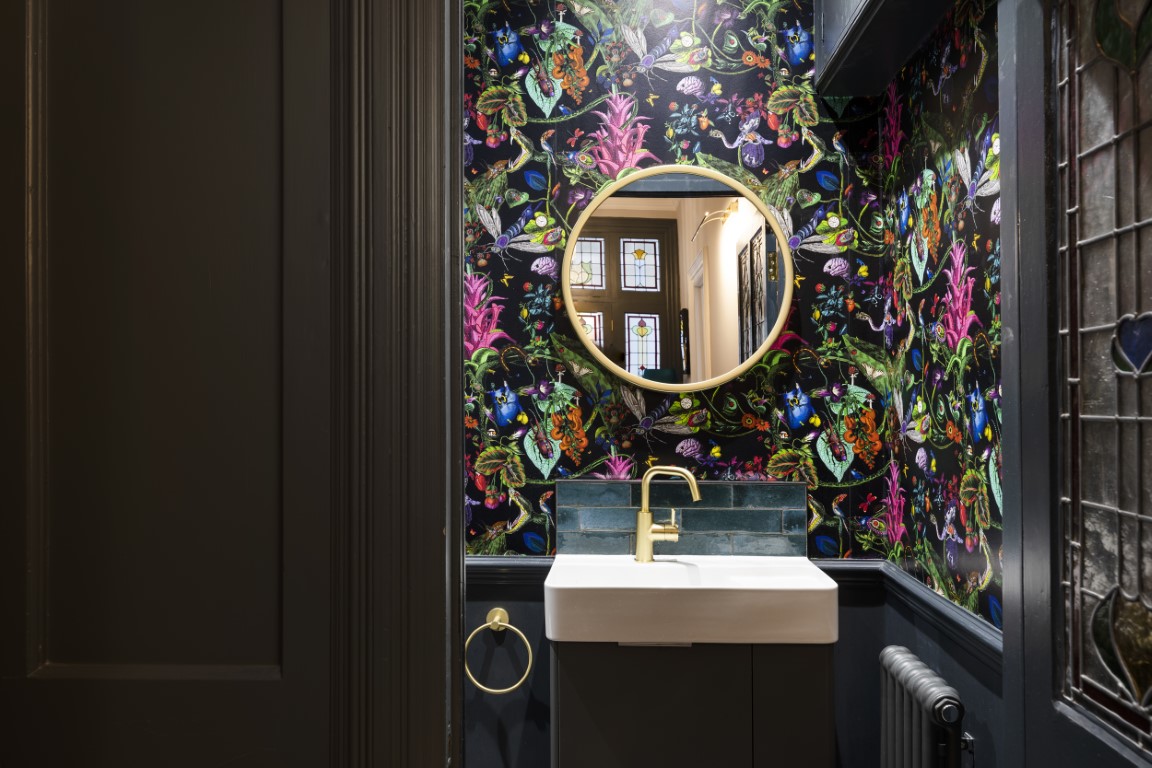 They knew that to suit their young family, some more 'family friendly' spaces were needed to stop the house from feeling so top heavy, and that although the interiors should impress, the feeling of heart should have precedence. Another element to their brief meant that the house should have personality and be a reflection of the people that called it home, whilst still retaining the original character of the property and being sympathetic to the period styling. Not elements that are necessarily symbiotic and easily achieved, however, thanks to Carla's strong vision, and a fabulous design team, that is exactly what they have created.
Externally, the house has had a striking yet understated makeover. Gone is the metal garage door that dominated the front elevation, and instead honey coloured bath stone and grey pennant stones now frame a re-instated sash window. A pretty front garden and pathway lead up to a stately front door painted in Farrow and Ball's vivacious Vardo and is embellished with a diverting brass knocker; a delightful allusion as to the other beguilements the house holds within. A light-filled vestibule encases the tessellated tiled floor, the stained glass doors and the wood paneling which have all been lovingly restored, and creates a dramatic and theatrical entrance into a masterpiece of an Edwardian renovation.
Working alongside Ivywell Interiors, Carla and Ed have embraced the inherent darkness typical of Edwardian period internal hallways and the result is opulent and inviting; the inky hues of the woodwork compliment the splendid gold finishings of the door furniture and light fittings, whilst drawing one further into the belly of the house, an enticement to see more. An inspired use of a matching stained glass door twinkles from the end of the hallway and conceals a whimsically colourful and mischievous wc.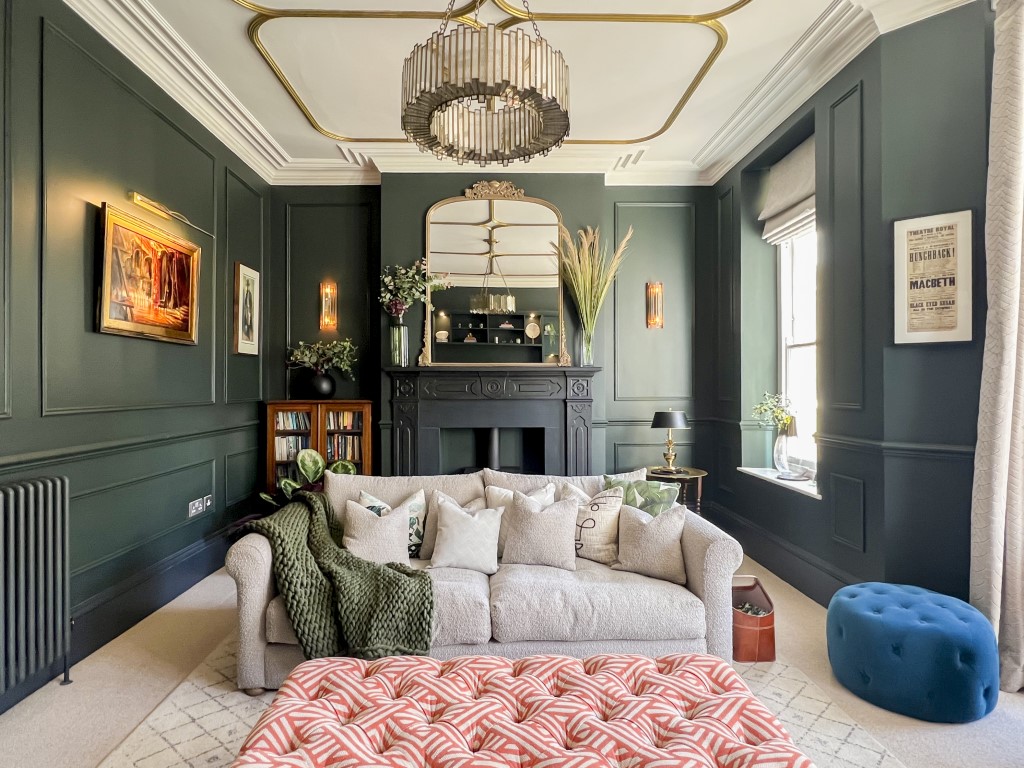 It is, however, the sensational drawing room that is perhaps the embodiment of Carla and Ed's love of the theatrical. Having always harboured a love of acting and the theatre (the couple met whilst acting in a production of Macbeth) 'moody and theatrical' was their vision for the décor. And with a daring coupling of Farrow and Ball's Studio Green and Railings on the walls and woodwork, the lavish gold finishing on the ceiling architraving and an expertly crafted 'stage-like' media cabinet, one would certainly be forgiven for believing they had stumbled into an intimate theatre of old. Atmospheric wall lighting and an art-deco chandelier add to the dramaturgic ambience and the overwhelming urge to sink into the inviting, sumptuous furnishings to enjoy a secret performance (or snuggle up as a family for movie night!).
The drama continues across the hall with a spectacular kitchen and family space. Here, with the guidance of Ivywell Interiors and DHV Architects, rooms have been combined and extended to create the hub and heart of the home. The effect is breath-taking; light and airy, with luxurious details, this spacious room effortlessly blends the old with the new, giving the family a space to come together to cook, eat, chat, play and socialise. Although natural light from impressive, glazed sliding doors floods the room, the dark walls and cabinetry create drama, warmth and depth of space. A modern and elegant marble kitchen, finished with bronze detailing and an art-deco chandelier compliment each other and again whisper softly towards Ed and Carla's theatrical theme.
At the far end of the room, the aluminum glazed doors allow one's eyes to be pulled towards the verdant greenery of the beautifully landscaped, walled rear garden; a wonderful design conceived in collaboration with Eden Gardens. A stunning terrace leads out into a lush green lawn with a cocktail patio situated under a canopy of festoon lighting, along with an outdoor play area; a perfect sunny space for the family to enjoy the outdoors. The treetops of Redland Green allotments and park provide a silvan backdrop to the garden, easily allowing one to forget the city location.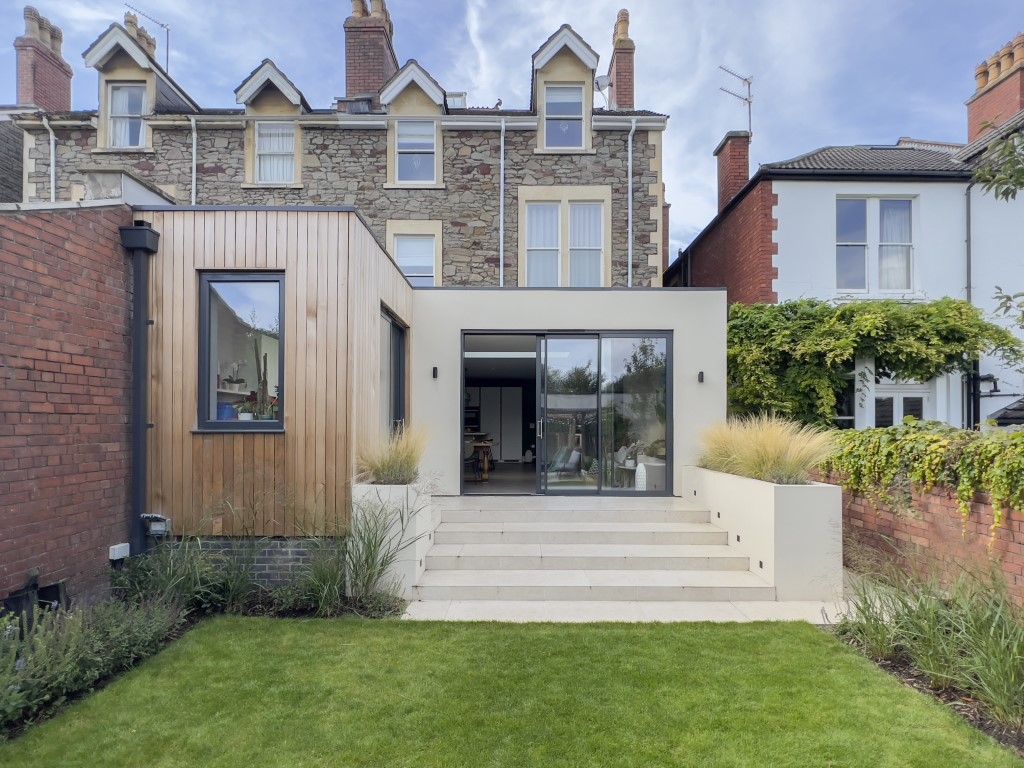 A stunning wood paneled extension was created to house a functional yet no less beautiful utility room, allowing the practical necessities of family life to be discreetly contained and away from the living spaces. Cleverly devised by the team at Ivywell Interiors and DHV Architects, the extension has been skillfully constructed using the original footprint of the house; allowing the rooms to be imaginatively re-configured in such a way as to utilize space without encroaching too much upon a city garden. Clad in silver birch panels, the use of organic materials also helps transition the outdoor and indoor spaces, creating a harmonious blending of the house with its natural surroundings, and allowing the garden to be integrated into the home, rather than being a separate entity.
The design team have also expertly re-structured the first floor, allowing a luxurious family friendly bathroom to be created from one of the bedrooms; a space that provides an easiness to family life. A huge walk-in shower bedecked with Mandarin Stone Hoxton tiles and a decadent gold rainfall shower is superbly juxtaposed with green/gold geometric wallpaper, two deco wall lights sit aside a beautiful art-deco mirror which hangs attentively over a family-sized vanity unit, whilst a lustrous bathtub finishes the bathroom complement. The result is elegant and chic with Ed and Carla's signature art-deco polish, and what's more, the children have room to play and have fun, permitting everyone to enjoy their bath/bedtime routines.
An ensuite for the principal bedroom has also been crafted from the original small family bathroom and separate wc, which again nods to the art-deco leitmotif that has been so exquisitely woven throughout the home. The space is a lovely addition to the sumptuous and tranquil environment of the principal suite, which is swathed in warming, calming hues and arrayed with plump cushions and plush furnishings; a sanctuary for slumber and a refuge from daily toils.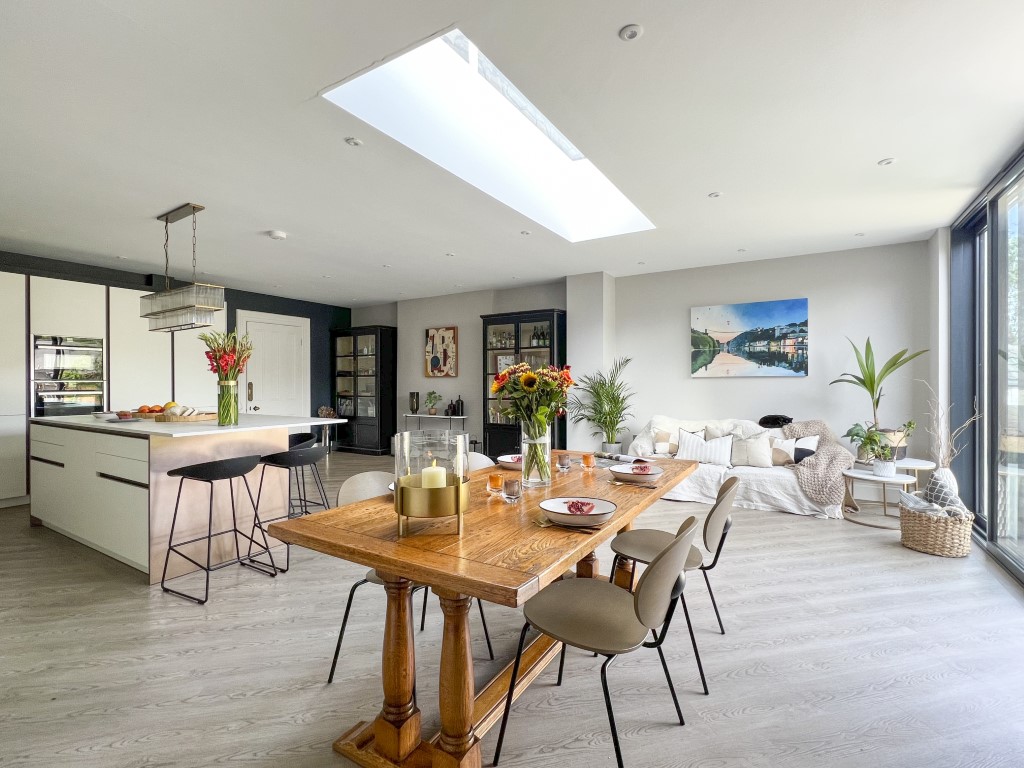 The children's bedrooms are charming; elegantly styled in colours and embellishments that reflect their characters and interests, and thus being sweet reflections of their own personalities. And a large, engaging guest suite is the quintessence of what every invitee may wish for in an overnight stay; an elegant, inviting and restful space, tastefully decorated in soothing, comforting hues and cosy fabrics.
Ed and Carla had a strong vision for how they wanted their home to be, and their remarkable ideas have been executed and realized in the most extraordinary way by the design teams who have helped them along their renovation journey. Carla credits Ivywell Interiors for helping to coherently blend colour schemes and furnishings allowing a harmonious transition between rooms. DHV Architects gave them the family spaces they greatly wanted, allowing them to connect and come together as a family, whilst Eden Gardens and Ashford Design and Build brought plans, designs and concepts to life.
It is often said that the little things are often the big things, and this is certainly something that has been upheld all the way through this sensational home. Walking around, one slowly starts to notice little pockets of atmospheric magic and secreted nooks of the unexpected; like door edges painted in gold, curated little treasures and curios squirrelled inside display cabinets and intriguing works of art in unusual spaces. All things that are reflective of the family who live here, who appreciate the little things and take joy from the unexpected, and have thoroughly made this characterful, theatrical and enchanting house their home.